Home Health Aide: The Complete Guide
By: Wendy Deras, MS, RN, CNE, CNS/PMH, CDP
© 2022 August Learning Solutions
Print ISBN: 978-1-941626-54-2 / eBook ISBN: 978-1-941626-55-9
Print: $36.25
eBook: $28.99
A holistic approach to caring for the home health client. A home health aide textbook comprehensively covering all the topics necessary to train and prepare home health aides for caregiving excellence.
Topics covered include:
Healthcare Team and Role of the Home Health Aide
Fundamentals for the Home Health Aide
Foundational Skills for Home Health Aide
Home Health Aide: Advanced Skills
Holistic Care
Nutrition in the Home
Maintaining the Home
Death and Dying
The Family Structure and Care of Vulnerable Populations
All chapters include a summary, chapter questions, case studies, and additional resources.
End-of-book material includes a time management form, a listing of common prefixes, suffixes, and abbreviations, and a safety checklist.
Additional instructor resources are available on the Instructor Portal. Find PowerPoints, case studies, quizzes, and a final exam to enhance your classroom experience.
Additional student resources can be found using the QR codes placed throughout the book.
Look Inside…
Ready to adopt this book for your course?
Fill out the form to receive a complimentary review copy, learn more about this title's additional resources, and find out about bulk discounts and special pricing.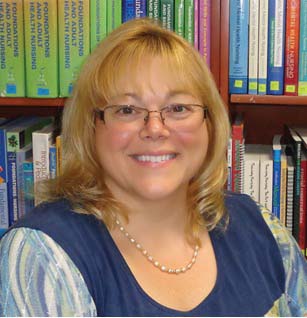 Wendy Deras, MS, RN, CNE, CNS/PMH, CDP
Author of:
Home Health Aide: The Complete Guide
Education and Special Industry-Related Trainings
Certified Dementia Practitioner (CDP)
National League of Nursing, Certified Nurse Educator (CNE)
Duquesne University, Pittsburgh, PA, Post-Master's Psychiatric/Mental Health Therapy/Clinical Nurse Specialist (CNS)
Wright State University, Dayton, OH, Masters of Nursing Education
Franklin University, Columbus, OH, Bachelor of Science in Nursing
Edison State College, Piqua, OH, Associate of Applied Science in Registered Nursing
Industry Experience
Wendy Deras obtained an Associate of Applied Science in Registered Nursing from Edison State College in Piqua, Ohio, followed by a Bachelor of Science in Nursing from Franklin University in Columbus, Ohio. Her master's degree in Nursing Education is from Wright State University in Dayton, Ohio. In 2002 Deras moved from Ohio to California as a travel nurse and determined to make California her home. Following her move, she obtained her Post-Master's Certificate in Psych-Mental Health Nursing from Duquesne University. She became a Certified Nurse Educator with the National League of Nursing in 2009 and has educated students from all levels of nursing for the last 27 years, teaching community education courses, on-the-job training, and professional development skills. She is a Certified Dementia Practitioner (CDP) with the National Council of Certified Dementia Practitioners as well as a trainer for the CDP course. Deras has practiced with pediatrics, adults, and geriatrics in acute, long-term, and home health environments. She has a passion for workforce development and entry-level healthcare training and believes in career ladders. Her unique background of healthcare, mental health, and education forms a very interactive, highly motivating atmosphere that propels participants to learn and apply new information to their daily lives, both personal and professional. Her desire is to bring a more qualified workforce to healthcare and believes that the power of education can transform lives, businesses, and the community.